Stricter 579
(LRG-GMS579)
Stricter 579
(LRG-GMS579)
About Stricter 579
Stricter 579 combines comfort, functionality, and performance in one powerful package.
Ergonomic design, combined with its classic size and weight, minimises your time getting to grips with Stricter 579. The mouse feet are made of 100% PTFE and provide the smoothest glide. The ease of motion is further optimised by the flexible and durable silicone cable.
With its advanced Pixart PMW3336 sensor of 12000 DPI, this sleek and sturdy mouse delivers precision and accuracy like never before. The OLED screen, nine durable programmable buttons with an impressive lifecycle of 50 million clicks for the left and right buttons, two switches with force adjustment, and synchronisable RGB backlight bring personalisation to unmatched levels. All thanks to Lorgar WP — our proprietary platform to enrich your gaming experience.
1
Fully customisable via Lorgar WP
Our original Lorgar WP lets you use your new Lorgar device to the max: track performance, make custom game profiles, manage RGB backlight, sync with other Lorgar devices, plus other features.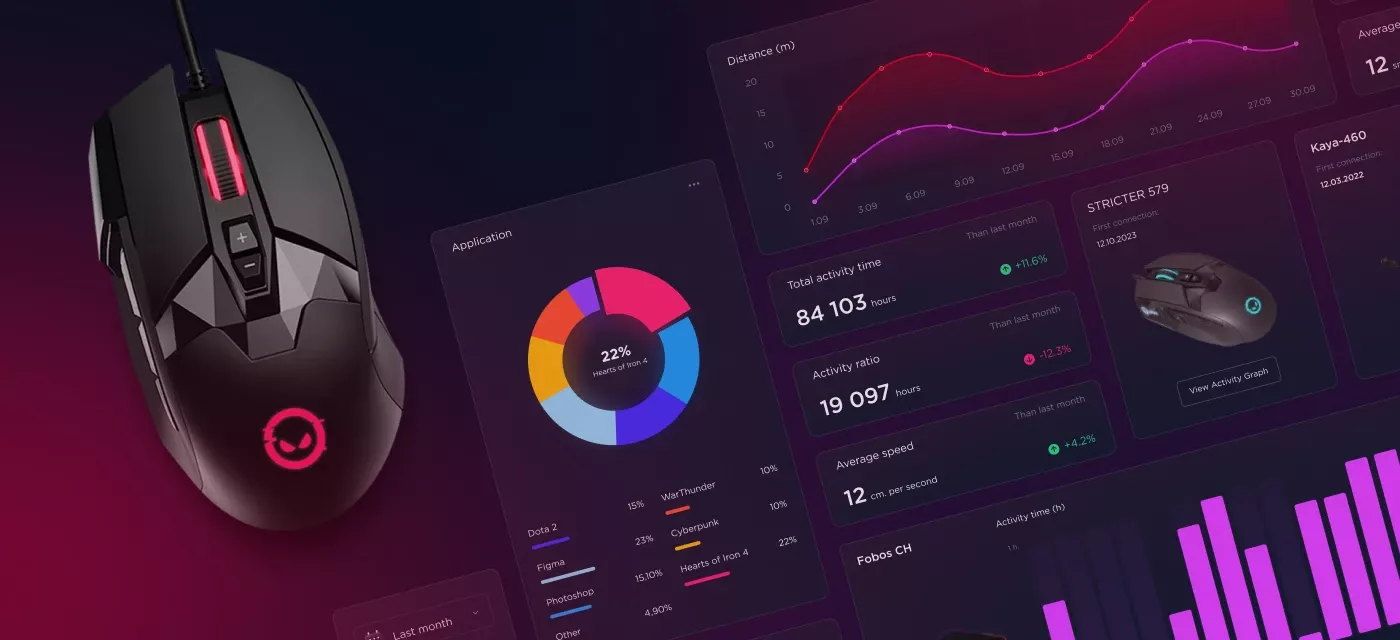 2
Discover your performance
With the WP from Lorgar, you can utilise the statistical module to monitor your gaming sessions' activity and compare behaviour across various applications. Discover your average cursor speed, mouse distance traveled, remaining clicks to reach the promised 50 million, and many more.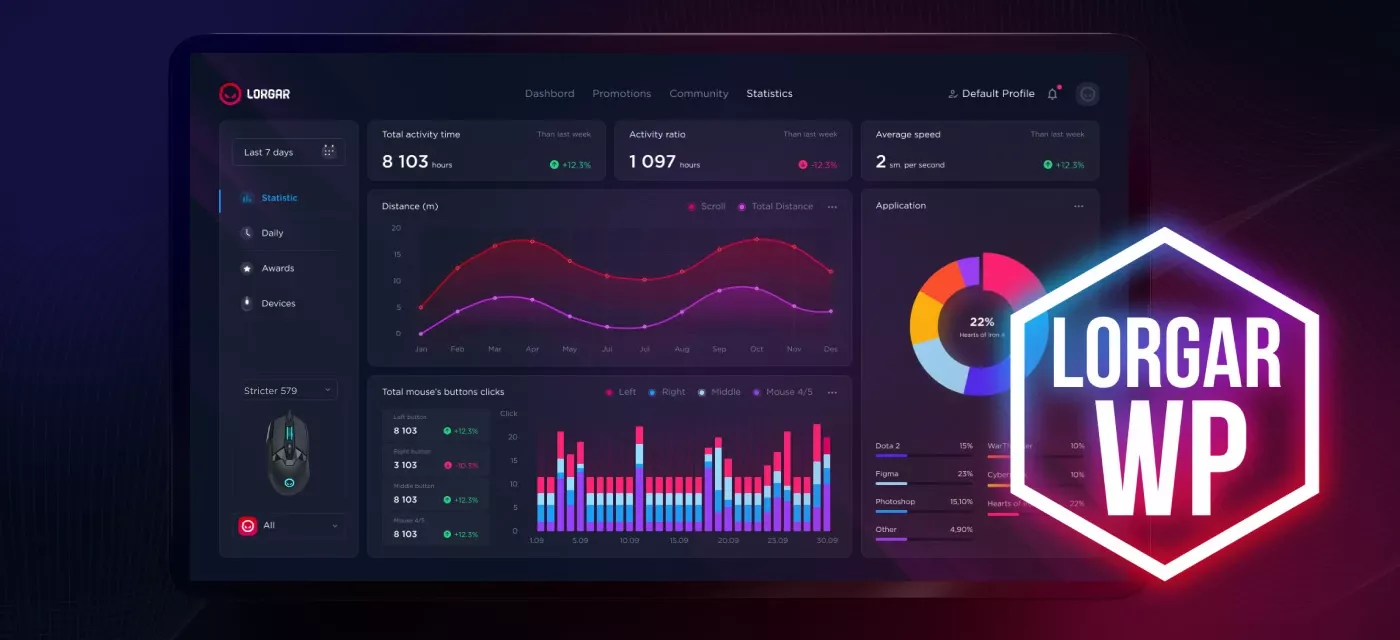 3
RGB backlight
The RGB backlight is adjustable with Lorgar WP and can synchronise with other Lorgar products, such as our RGB mouse pad.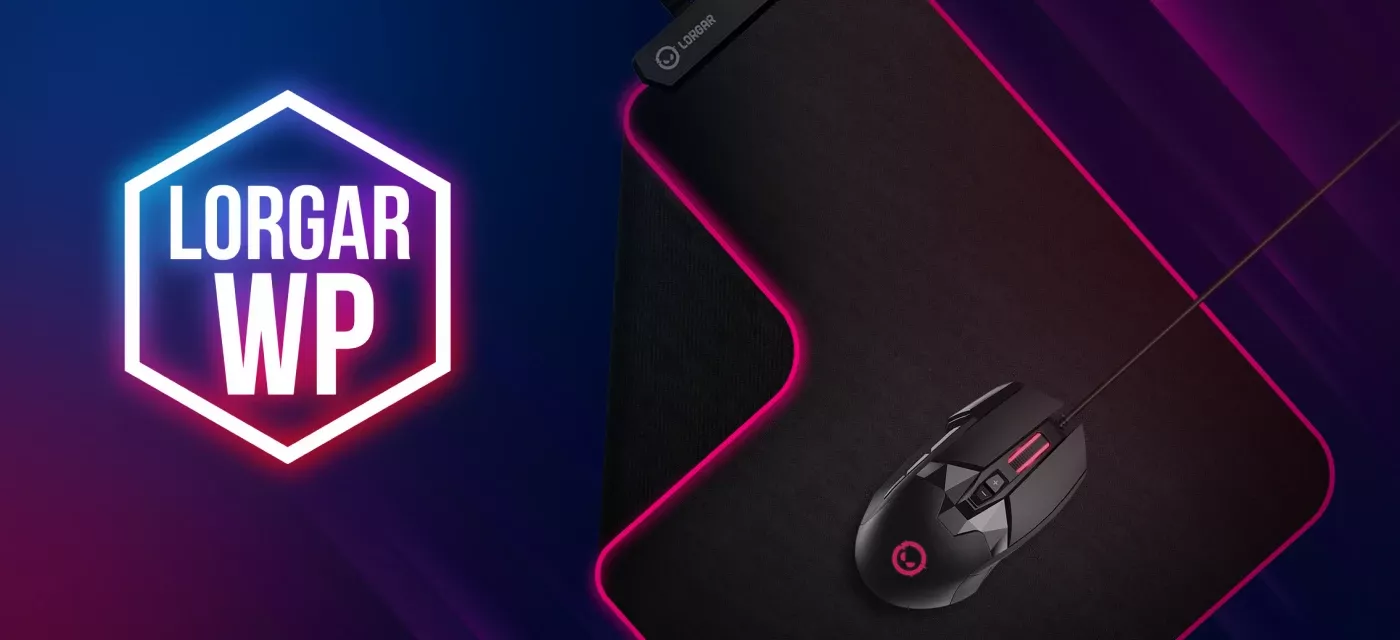 4
9 Programmable buttons
Left and right mouse buttons with an impressive lifecycle of 50 million clicks, scroll button with backlight, resolution increase and resolution decrease buttons, Fn button, fire button, forward button, back button – all these are ready to be binded according to your preferences. More buttons, more control, more possibilities.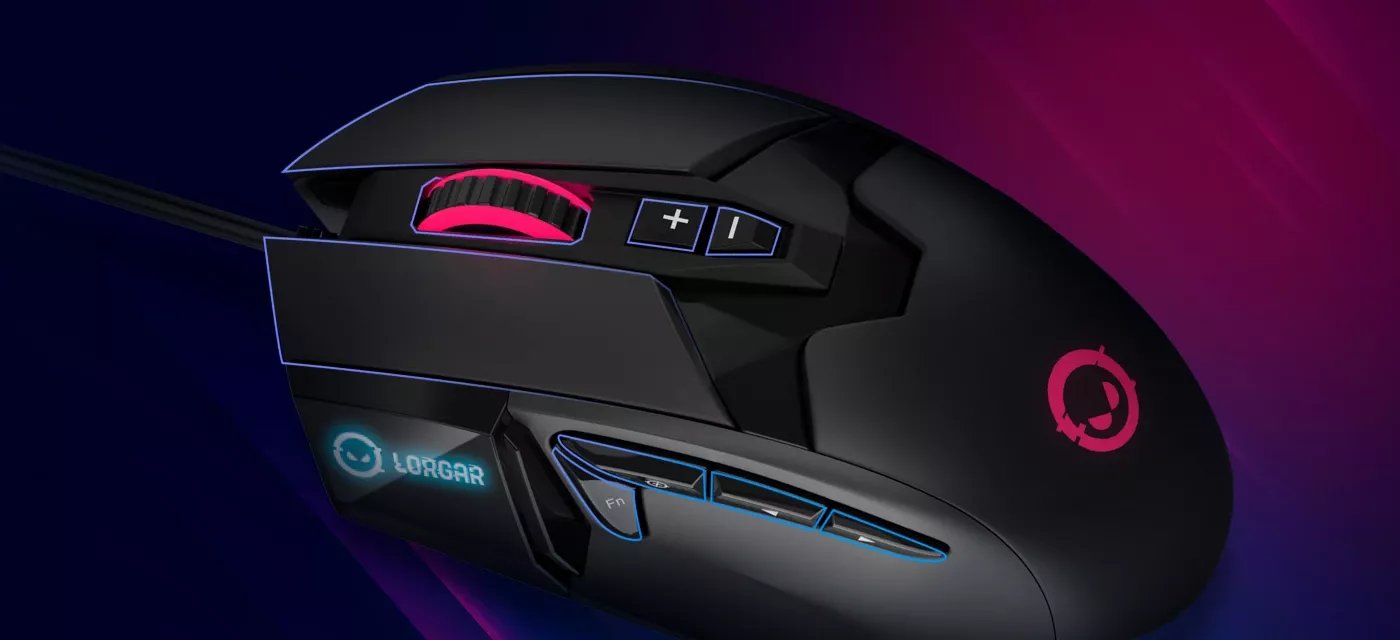 5
Two switches with force adjustment
Select the required click force, depending on your role in the game: heavier force for clarity of click when sniping or lighter force for swiftness of reaction in close quarters.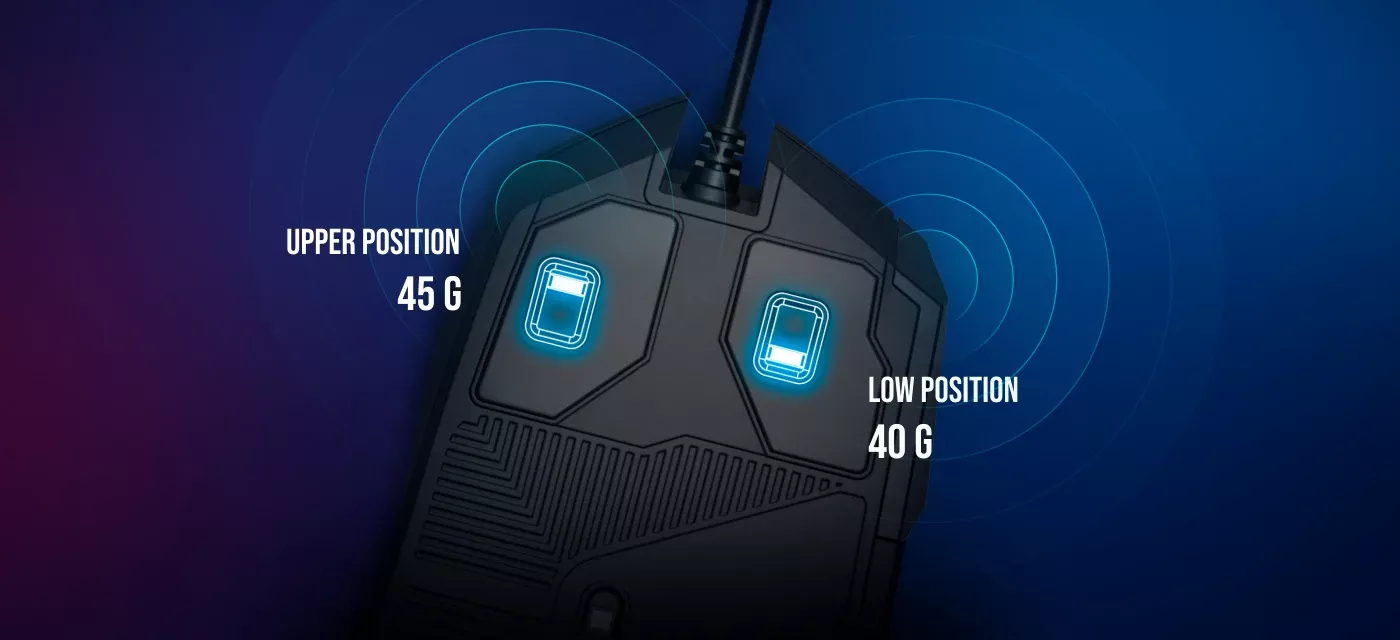 6
Built-in OLED display
This handy little screen can show the current settings of your mouse, a Lorgar logo, or basically anything you'd want. Personalise your Stricter 579 and make it stand out.
7
Gaming-grade optical sensor
A 12000 DPI Pixart PMW3336 sensor has a response time of 1 millisecond and provides reliable performance even with 30g accelerations. Compatible with all types of gaming surfaces.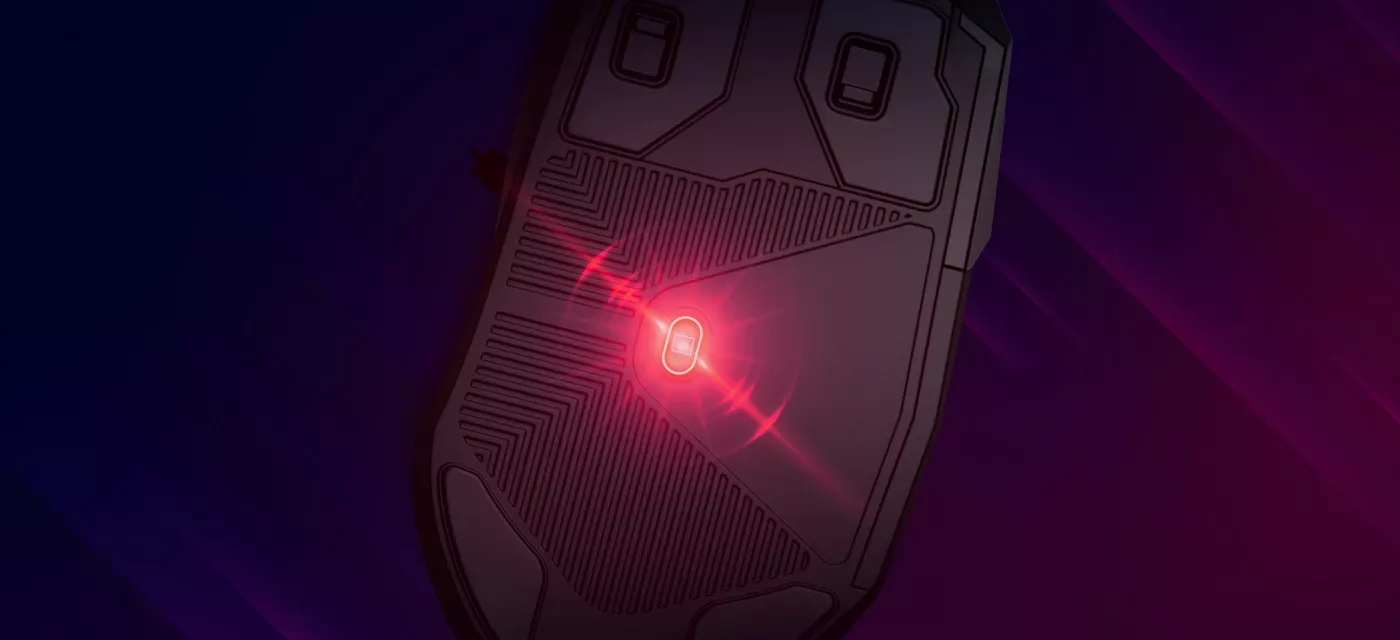 8
Gifts inside
There's a gift bundle in each package: additional mouse feet, an eco-friendly cup coaster, two hand warmers, and a keychain. Remember to get all this out before throwing the box away!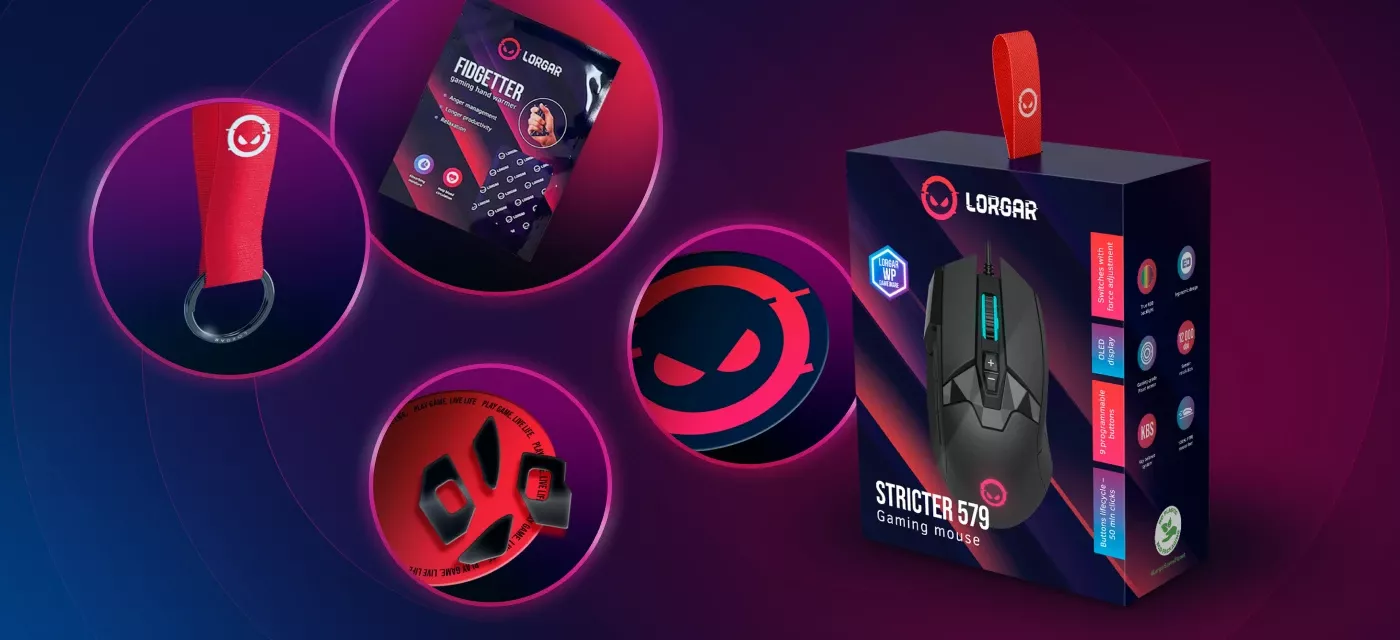 Parameters & specifications
Pointing Device Technology:

Optical

125 Hz/250 Hz/500 Hz/1000 Hz

RGB Backlight
Scroll button with backlight
OLED Display

Requires Operating System:

Windows 10/8/7

Max&Min Movement Resolution:

12000 dpi
400 dpi

Two hand warmers
Cup coaster
Keychain
Quick Start Guide
Additional mouse feet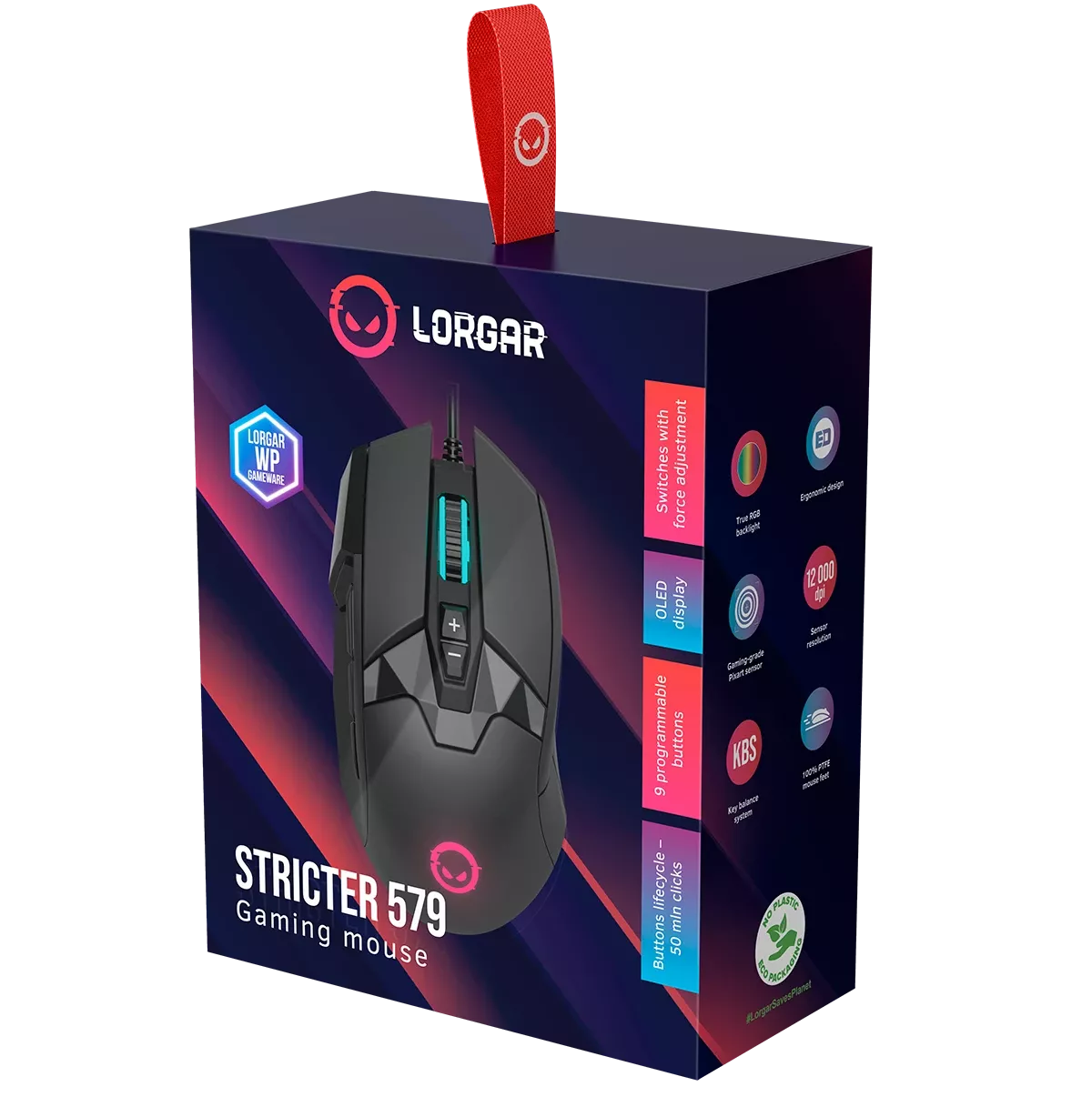 The kit contains
Gaming mouse

Additional mouse feet

Cup coaster

Two hand warmers

Branded keychain

Carrying bag